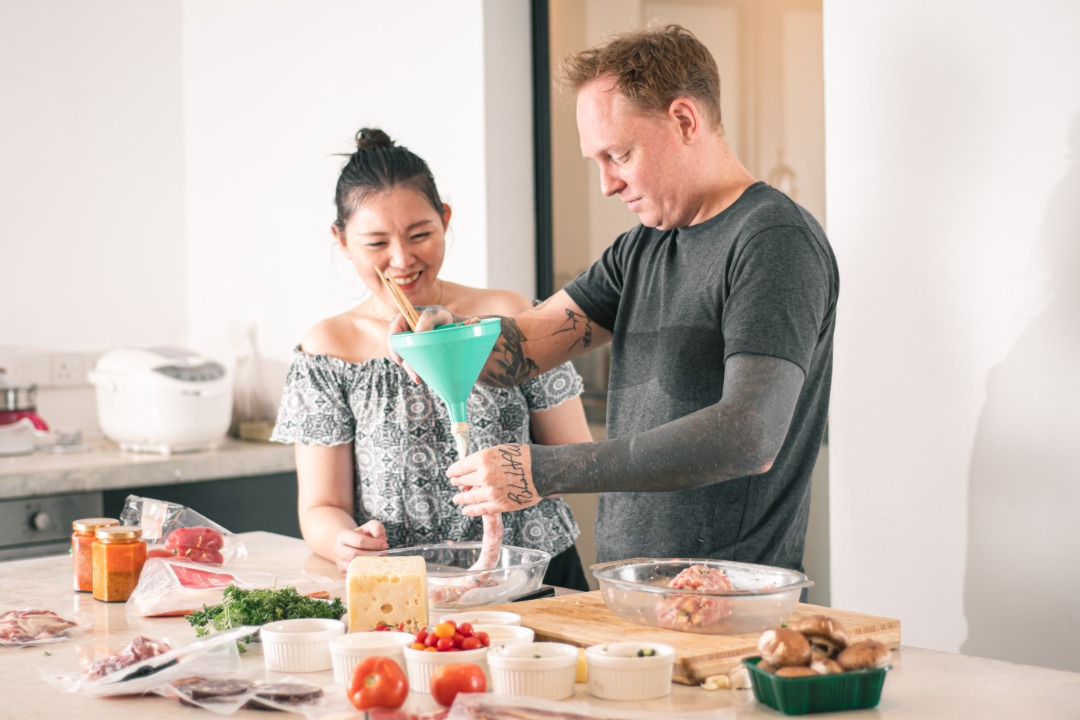 Hi! 𝗠𝘆 𝗻𝗮𝗺𝗲 𝗶𝘀 𝗩𝗶𝗰𝗸𝘆 𝗮𝗻𝗱 𝗵𝗲𝗿𝗲'𝘀 𝗺𝘆 𝘀𝘁𝗼𝗿𝘆.
.
After we got married and had Lily, our first daughter, we live on paycheck to paycheck working
in corporations. We're just like any normal married couple who wanted to give the best to our family.
.
Everything changed one fateful day 6 years ago
.
.
𝗦𝗮𝗺 𝗴𝗼𝘁 𝗿𝗲𝘁𝗿𝗲𝗻𝗰𝗵𝗲𝗱.
.
And since Sam is probably the third or fourth generation of a butcher family in London, England, he turned to the one and only thing he is passionate about - food & meat.
.
We decided to start a restaurant and named it after our daughter - Lily.
.
All we wanted was to provide people of Puchong the best ever wood fired pizza with lots of homemade cured meat!
.
Things were amazing, it was perhaps it is really the best pizza in Puchong or maybe the lack of pizza in Puchong (who knows? XD), our restaurants were often fully booked.
.
So we thought, we are probably set for life.
.
We were relieved of course, having risen up from Sam's retrenchment.
.
.
𝗧𝗵𝗲𝗻, 𝘁𝗵𝗲 𝗿𝗲𝗮𝗹𝗶𝘁𝘆 𝗵𝗶𝘁𝘀 𝘂𝘀 𝗮𝗴𝗮𝗶𝗻!
.
We were always understaffed.
.
Without even realising, Sam and I were already working 14 hours a day, serving 60 people 4 different items from starters, mains to desserts.
.
Soon, our lives are filled with only 𝘄𝗼𝗿𝗸, 𝘄𝗼𝗿𝗸 𝗮𝗻𝗱 𝘄𝗼𝗿𝗸.
.
.
.
𝗪𝗲 𝗹𝗼𝘀𝘁 𝘁𝗿𝗮𝗰𝗸 𝗼𝗳 𝗼𝘂𝗿 𝗹𝗶𝗳𝗲, 𝗮𝗻𝗱 𝘄𝗲 𝗹𝗼𝘀𝘁 𝘁𝗿𝗮𝗰𝗸 𝗼𝗳 𝗼𝘂𝗿 𝗹𝗶𝘁𝘁𝗹𝗲 𝗱𝗮𝘂𝗴𝗵𝘁𝗲𝗿, who was 18 months old that time.
.
The restaurant has operated for 8 months, and we have not participated in Lily's grown up journey for 8 months.
.
We thought - is this what we really want? To miss out on our daughters childhood that will never come back again?
.
.
.
𝗜 𝗥𝗘𝗙𝗨𝗦𝗘.
.
.
We had to make the hard decision to close down a thriving business that we were proud of.
.
This is when "Lily's Homemade" is born.
.
We took out our best selling item - our homemade sausages. and decided to make our house our kitchen.
.
Our goal was to create sausages that are healthy, so healthy that it becomes a staple in our little daughter's big breakfast everyday.
.
Over the years, we have since expanded our offering from purely sausages to bacon, burger patties, rolls, and more. We have got 60+ products now.
.
.
We are grateful that "Lily's Homemade" turned out to be ok.
.
But our "sausage manifesto" — no MSG, no food colouring, preservatives free, gluten free, antibiotic and hormone free meat, low salt — is still in place today.
.
.
Looking back, closing down our thriving restaurant, and starting "Lily's Homemade" was probably 𝘁𝗵𝗲 𝗯𝗲𝘀𝘁 𝗱𝗲𝗰𝗶𝘀𝗶𝗼𝗻 𝘁𝗵𝗮𝘁 𝘄𝗲'𝘃𝗲 𝗲𝘃𝗲𝗿 𝗺𝗮𝗱𝗲.
.
.
𝗔𝗻𝗱 𝘄𝗲 𝗻𝗲𝘃𝗲𝗿 𝗹𝗼𝗼𝗸𝗲𝗱 𝗯𝗮𝗰𝗸 𝗮𝗴𝗮𝗶𝗻.